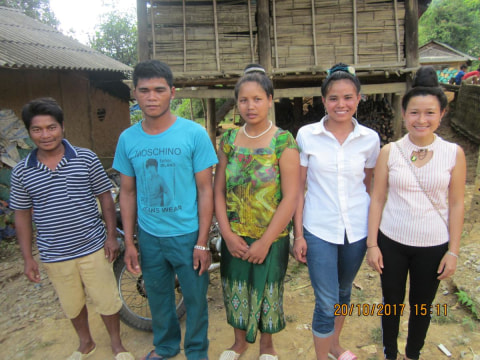 100%
funded
Total loan: $1,375
Nua Ngam 53 Group
Dien Bien, Dien Bien, Vietnam / Agriculture
---
Nua Ngam 53 Group's loan finished fundraising, but these other borrowers need your support
---
A loan helped to buy piglets to raise and sell.
---
Nua Ngam 53 Group's story
Noi, 27, is pictured first from the right. She is a Thai ethnic woman and is married. Her large family comprises her parents-in-law, her spouse, her three-year-old son, a younger sister-in-law and a grandchild. She and her family live in a traditional stilt house in a remote village.

Most of the family's income is from agricultural production and the income is low and unstable. Therefore, it is difficult for her family to ensure the well-being of seven members. Her main hardships are a lack of capital and animal diseases.

This is her second loan from Entrepreneurs du Monde's Anh Chi Em. She will use this loan to purchase piglets to raise and sell. She will use the profits from this investment to pay tuition for her son. Noi dreams her son will have good education, which will help him get a good job and have a better future.