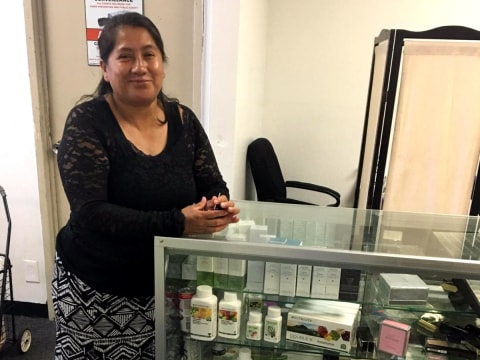 100%
funded
Total loan: $3,000
Maria
Oakland, CA, United States / Retail
---
Maria's loan finished fundraising,
but these similar borrowers just need a little more help to reach their goals!
---
A loan helped me purchase oils, creams, lotions and other beauty products in bulk to expand my line of natural beauty products.
---
Maria's story
Hi my name is Maria and I am from Toluca, a small farming city in central Mexico. I grew up in a rather large family as the 5th child of 9. My parents were corn farmers and we always had something to eat but not a whole lot more. We had a working class existence and I learned the value of hard work by working on the family farm. I got married at a young age and after a couple of years after my marriage failed, I decided to move to the United States in order to improve my opportunity at a better life. I had to leave my two children with my parents for four long years and it was extremely difficult. I moved to the United States in 1999 and I landed in Oakland. I began working at a car wash and cleaned houses as a 2nd job like many immigrants. I later took on babysitting work and sold tamales, I did anything and everything I could to save enough money to send for my children.