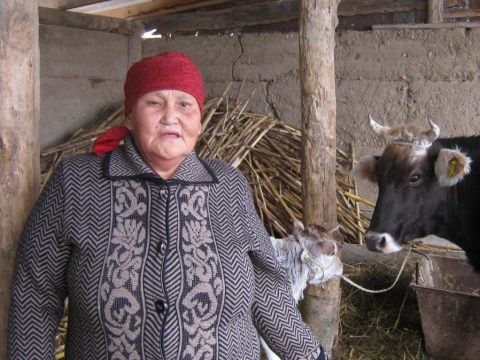 100%
funded
Total loan: $1,025
Uulbu
Aksy district, Jalalabad region, Jalal-Abad Region, Kyrgyzstan / Agriculture
---
Uulbu's loan finished fundraising,
but these similar borrowers just need a little more help to reach their goals!
---
A loan helped to buy seeds and fertilizer in order to cultivate her land and grow organic produce.
---
Uulbu's story
Uulbu repaid her [previous] loan, after using it for its intended purpose. She is very thankful to Kiva and to all the lenders who have helped her financially. She currently has two cows and 15 sheep on her farm. She also grows watermelons on 1.28 hectares of land.

Eager to further develop her farming business, Uulbu has turned to Bai Tushum Bank and requested a loan of 70,000 som (KGS) to buy seeds and fertilizers in order to prepare her soil and grow organic crops. She is planning to use the earnings from her loan to further develop her business and to save enough money to renovate her house.