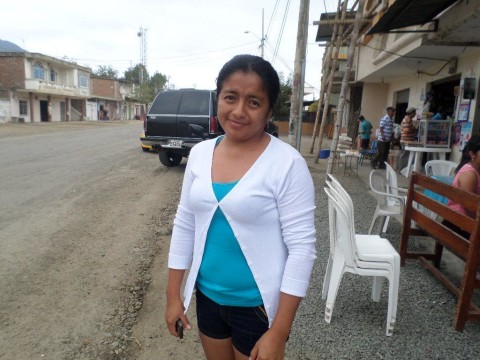 100%
funded
Total loan: $1,100
Sandra Veronica
Montecristi, Manabí Province, Ecuador / Retail
---
Sandra Veronica's loan finished fundraising,
but these similar borrowers just need a little more help to reach their goals!
---
A loan helped to buy table cloths, decorations and chairs to rent.
---
Sandra Veronica's story
Sandra is 34 years old. She is married and from this relationship have two children aged 15 and 14 years old who study in Secondary school. Her husband is the cook on a tuna boat. They live in Los Bajos de Montecristi, a city known for it's large variety of traditional products such as the straw hat that is known inside and outside the country.

She is a woman who through her efforts likes to obtain her own resources and with them help her husband get ahead with the family as her children are the most important thing in her life. Because of this she has a business renting tables, chairs, decorations and glassware for all types of parties and social functions. She makes the arrangements and decoration according to the occasion. Now is the time when she has her most engagements and for this reason she hopes to use the loan to buy a variety of designs for decorating the parties. Generally she has an event every 15 days which leaves her with very good income.

She will use this loan to buy table cloths, decorations and chairs to rent. She likes [the communal bank] for the support provided by the loans. Her dream is to provide the best for her family.