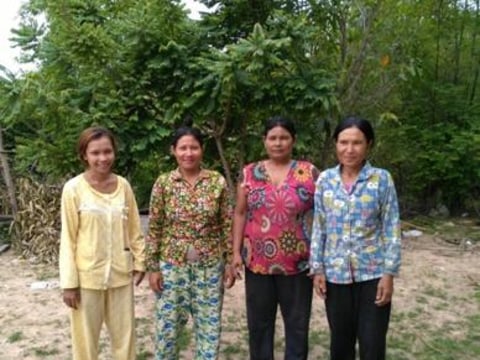 100%
funded
Total loan: $1,525
Met Group
Svay Reang Province, Svay Rieng Province, Cambodia / Housing
---
Met Group's loan finished fundraising,
but these similar borrowers just need a little more help to reach their goals!
---
A loan helped to buy construction materials to renovate her house that was destroyed by rain.
---
Met Group's story
Met, 52, is widowed and lives in the Svay Reang province of Cambodia with four children. She is a rice farmer and has been cultivating rice to earn additional income to support the family since 1995. Her family is also aided by two of her children who work in a garment factory, and two others who work as construction workers. This family can make around $11.50 USD each day.

Now her house is too old and was destroyed by the rain, so she decided to form a group of four members to apply for a loan with Kredit MFI. She is a group leader and standing the first on the right in the picture. She will use her portion to buy construction materials to renovate her house. This loan will be able to help her finance the construction material costs and have a proper house for living.

In the future, she is going to expand her farm.