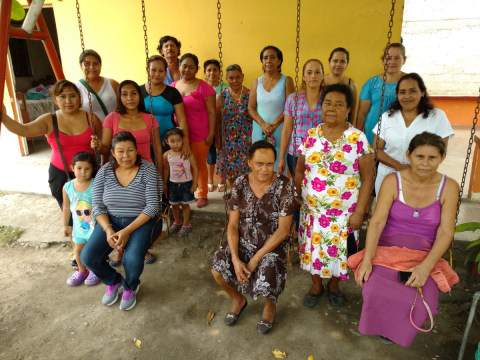 100%
funded
Total loan: $7,175
Las Carmelitas Group
Acatlan de Perez, Oaxaca, Oax., Mexico / Food
---
Las Carmelitas Group's loan finished fundraising,
but these similar borrowers just need a little more help to reach their goals!
---
A loan helped to buy: rice, beans, oil, sugar, ham, cheese, milk, soft drinks and chips.
---
Las Carmelitas Group's story
The group "Las Carmelitas" is located in the Oaxacan community that is part of a highly sugar cane producing area. There, the cane is harvested and processed in the mill to obtain refined sugar. For its part, the remainder is called "cachazo" or "gabazo" and is processed in the paper factories found in the town. The name of this group matches that of a religious order and its members are: Dominga who will invest in soft drinks and cosmetics; Nelly and Margarita, groceries; Maria H., esthetics; Maria C., linens and tablecloths; Genaro, a mechanic's garage; Maria E., cosmetics; Josefina and Alma, tortillas; Maria G., shoes; Maria P., stationary shop; Maribel, Yadira, Ana and Silvia, food; Teresa, tamales; Guillermina, piglets; and Lucero and Adriana, shoes. Doña Margarita is a mother of six children who have entrusted her to make their family grow. In the community, some know her as Doña Mago while the kids call her Grandma Mago to which she responds with a smile happily. "The desire to provide a better quality of life to my children motivated me to open a grocery shop." She then expressed with enthusiasm that so far it had gone favorably. In the beginning, she organized her merchandise on some tables but with time she fit metal shelves together. Besides that, she introduced the sale of chicken which she raises herself. The profits that she obtains have served to give education to her children, remodel her house and tailor a more ample space for her business. The service is the most important for her business and for that she has extended working hours. "As the song goes: he who has a shop attends to it," she remembers with a big smile. The loan that she requests will be invested in the purchase of rice, beans, oil, sugar, ham, cheese, milk, soda and snacks. *The photo was taken on Doña Mago's patio together with the swings where she passes the afternoon with her grandchildren and daughters. She is pictured in the middle.