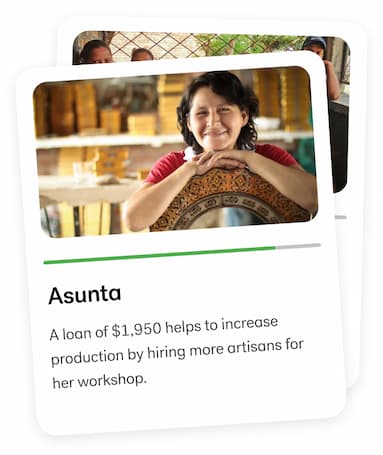 Welcome to Kiva!
You have a free credit to lend to borrowers who inspire you!
Explore how you can change lives. Kiva loans enable people to grow businesses and create opportunities that can shape the future for a family or an entire community.
---
Support causes you care about.
---
About Kiva
Kiva is an international non-profit with a mission to expand financial access to help underserved communities thrive. Kiva does this by crowdfunding microloans and with technology and financial service innovations scaling access to capital for small businesses, farmers, students, and entrepreneurs in the United States and more than 90 countries around the world.
At Kiva, loans aren't just about money—they're a way to create connection and relationships. Since 2005, Kiva microloans have helped create opportunities for millions of lenders around the world to play a special part in someone else's story. 
---
By lending as little as $25 on Kiva, you can support the causes you care about and make a real personal impact.
Step One
Choose a borrower
Browse by category and find an entrepeneur to support
Step Two
Make a loan
Help fund a loan with as little as $25
Step Three
Borrower repays
When the borrower repays, funds return back to the funders account.