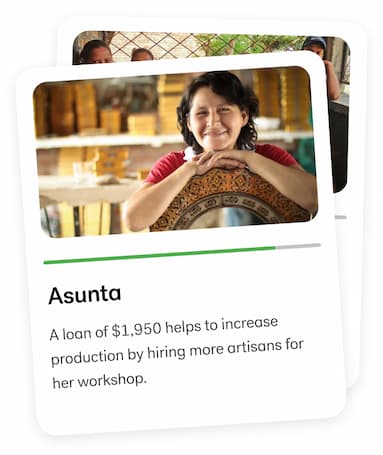 Happy holidays from Etsy!
Like Etsy, Kiva is committed to supporting under-resourced communities across the globe. They provide loans to students, new business owners, small-scale farmers, and families in need of emergency care. The loan then gets repaid so that it can be re-loaned again and again! In the spirit of holiday cheer, we're giving Etsy Admin the opportunity to make microloans with a $100 credit to Kiva. By lending as little as $25 on Kiva, you can be part of the solution and make a real difference in someone's life. 100% of every dollar you lend on Kiva goes to funding loans.
---
Support causes you care about.
---
When you lend to a small business owner, you are:
Enabling them to start or grow an independent business. 

Supporting shorter, more environmentally-friendly supply chains by helping them access markets directly.

Keeping vibrant cultural traditions alive by backing heritage artisans who create works passed down through generations.
Creative entrepreneurs worldwide particularly struggle to access the loans they need to start and grow their businesses. They are locked out of traditional loans for a number of reasons: the amount they need is too small, their business is too young, their plan is too innovative, or their credit history is too short or damaged. What they do have is the passion, creativity, and talent to hand-make and sell high-quality goods. And now they have you.
Want to be updated on the Etsy's community's collective progress? Join our lending team!
---
By lending as little as $25 on Kiva, you can support the causes you care about and make a real personal impact.
Step One
Choose a borrower
Browse by category and find an entrepeneur to support
Help fund a loan with as little as $25
Step Three
Borrower repays
When the borrower repays, funds return back to the funders account.