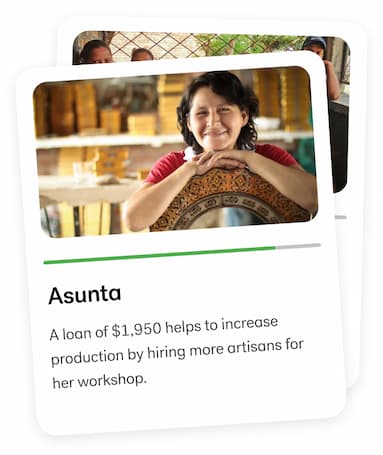 Helping Small Businesses Succeed
DoorDash is proud to partner with Kiva to match loans for small businesses owned by women, immigrant, and people of color.
Support causes you care about.
DoorDash's Support for Small Businesses
DoorDash is committed to leveling the playing field for entrepreneurs and increasing access to opportunity for small businesses owned by women, immigrants, and people of color. Small business owners often face bigger barriers to success. Our programs are here to support them.
Visit get.doordash.com/en-us/about/entrepreneurship-and-access to learn more
---
By lending as little as $25 on Kiva, you can support the causes you care about and make a real personal impact.
Step One
Choose a borrower
Browse by category and find an entrepeneur to support
Help fund a loan with as little as $25
Step Three
Borrower repays
When the borrower repays, funds return back to the lenders account.
Relend your money or withdraw your funds.