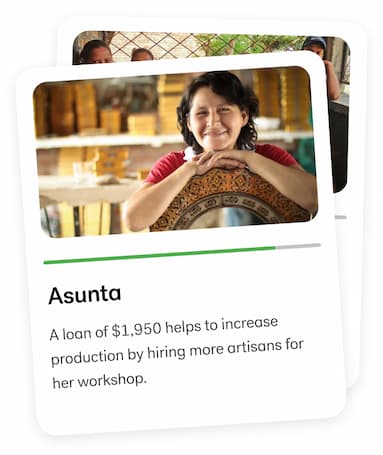 Helping Immigrant and Refugee-owned Businesses Succeed
Throughout Immigrant Heritage Month, DoorDash is matching all loans for immigrant and refugee-owned businesses. DoorDash's Kitchen Without Borders initiative supports these businesses year-round.
---
Support causes you care about.
---
DoorDash's Support for Immigrant and Refugee-Owned Businesses
During Immigrant Heritage Month, DoorDash highlights and celebrates the critical contributions immigrants have made, and continue to make, in America. Our mission is to empower local economies. One way to do that is by creating valuable opportunities for entrepreneurs to reach new audiences. Immigrant communities can face heightened barriers to success and that is why we have designed programs to support immigrant entrepreneurs.
Visit kitchenswithoutborders.com to learn more.
---
By lending as little as $25 on Kiva, you can support the causes you care about and make a real personal impact.
Step One
Choose a borrower
Browse by category and find an entrepeneur to support
Help fund a loan with as little as $25
Step Three
Borrower repays
When the borrower repays, funds return back to the lenders account.
Relend your money or withdraw your funds.