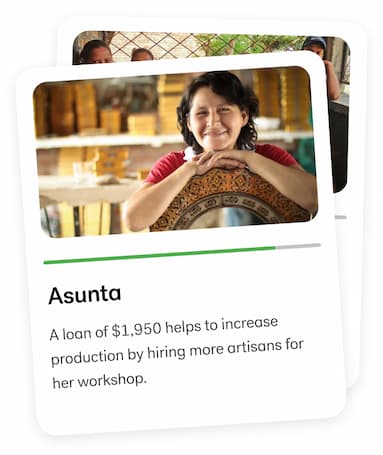 Thank you - a gift for you!
You have a free $25 Kiva Credit to lend to borrowers who inspire you. Kiva is changing lives and we couldn't do this without you. 
Support causes you care about.
So far this year, our Kiva community, including people like you, supported over $160 million worth of loans to almost 315,000 borrowers across more than 60 countries. 
Kiva loans give opportunities to individuals who are traditionally excluded from financial services - a refugee can open a borderless bank account, a single mother can get the funds she needs to start her own business, and a bank in a rural village can finance emergency repairs for its residents. 
Click here for a message from our CEO!
---
By lending as little as $25 on Kiva, you can support the causes you care about and make a real personal impact.
Step One
Choose a borrower
Browse by category and find an entrepeneur to support
Help fund a loan with as little as $25
Step Three
Borrower repays
When the borrower repays, funds return back to the funders account.