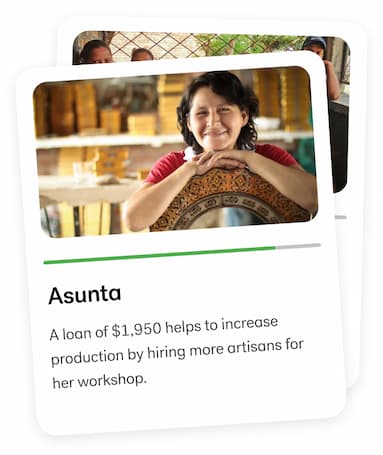 Thank you - a gift for you!
You have a free $25 Kiva Credit to lend to borrowers who inspire you. Kiva is changing lives and we couldn't do this without you. 
Support causes you care about.
Systemic barriers prevent more than 1.7 billion people around the world from accessing the financial services they need.   Kiva is a social impact organization on a mission to expand financial access for all. Through technology and global partnerships, Kiva crowdfunds loans and seeks to address the underlying barriers to financial access around the world.
Kiva loans give opportunities to individuals who are traditionally excluded from financial services - a refugee can open a borderless bank account, a single mother can get the funds she needs to start her own business, and a bank in a rural village can finance emergency repairs for its residents. 
---
By lending as little as $25 on Kiva, you can support the causes you care about and make a real personal impact.
Step One
Choose a borrower
Browse by category and find an entrepeneur to support
Help fund a loan with as little as $25
Step Three
Borrower repays
When the borrower repays, funds return back to the funders account.